The Shadows of Hilgraab - A Board Game Variant of Fallen RPG
The Shadows of Hilgrabb (TSoH) is a Fan made Solo City Crawl / Investigation Board Game Variant for Fallen RPG by Perplexing Ruins
The Shadows of Hilgrabb Board Game Mode can be played as a standalone game. However, Fallen RPG core game is HIGHLY RECOMMENDED to get the most out of this game.
Foreword
The aim of this project is to provide a Solo RPG Board Game experience using the materials from Fallen RPG by Perplexing ruins. The Shadows of Hilgrabb is first and foremost a mechanics driven game instead of pure journalling / creative story writing.
One of the main obstacle that hampered Solo RPG beginner's experience in solo gaming is the lack of guided gameplay structure. While most solo players understand Oracle is a core mechanics of Solo RPG (asking yes / no or what questions and using generator / rolling tables or other tools to help generate answers and story), it can be tedious if it is the only tool to use when playing a Solo RPG.
The Shadows of Hilgraab aims at providing a guided framework that allows players to enjoy the best bits of Solo RPG - narrative freedom, the sense of exploration, the excitment of dice rolling - while minimising the tedium of extensive Journalling or over reliance on Oracle tables and creative writing to progress the story.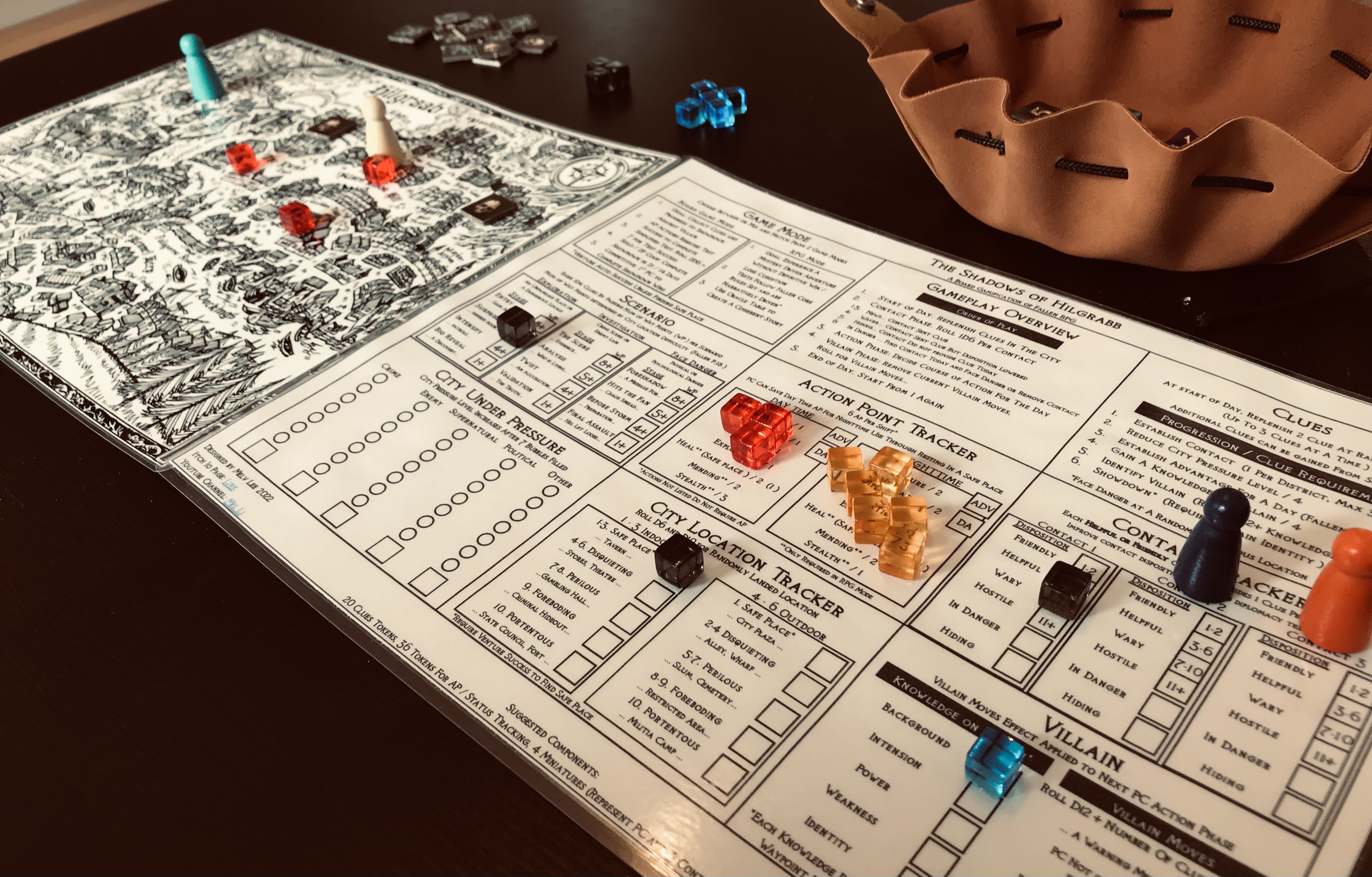 Gameplay Overview

The Shadows of Hilgrabb can be played in 2 modes
Board Game Mode:
1. Plays like a traditional board game. Approx 30mins per Player
2. There is no need to create a full RPG character and all tests are simplified. Oracle / Narrative dressing are optional
3. The player's goal is to travel across the city, establish contacts , collect clues and exchange clues to gain knowledge on the Villain.
4. Each Player have 12 Action Points (AP) per day to use during their action phase. AP can be used to:
- Travel between Connected District in the city of Hilgrabb
- Find a safe place to lay low / rest
- Get into Stealth mode
- Improve or Sabotage relationship with Contact
- Explore / Investigate a scenario or Face Danger to collect additional clues (Based on Fallen Way Point system)
5. The villain moves after player's action phase. Depending on the number of clues the players held, the villain may put forward difficult obstacle to hinder player progression
6. In Solo / Coop Mode, the players aim to identify the villain and complete the showdown within a number of days
7. In Competitive mode, the first PC to complete showdown with the Villain wins the game.
RPG Mode:
1. Mostly follow the same rules as Board Game Mode but can be played as a one off mystery driven adventure in your Fallen RPG play through
2. No definitive Win / Lose condition.
3. Tests and Character Creation follows Fallen RPG core rules.
4. Narrative driven and Roleplay encouraged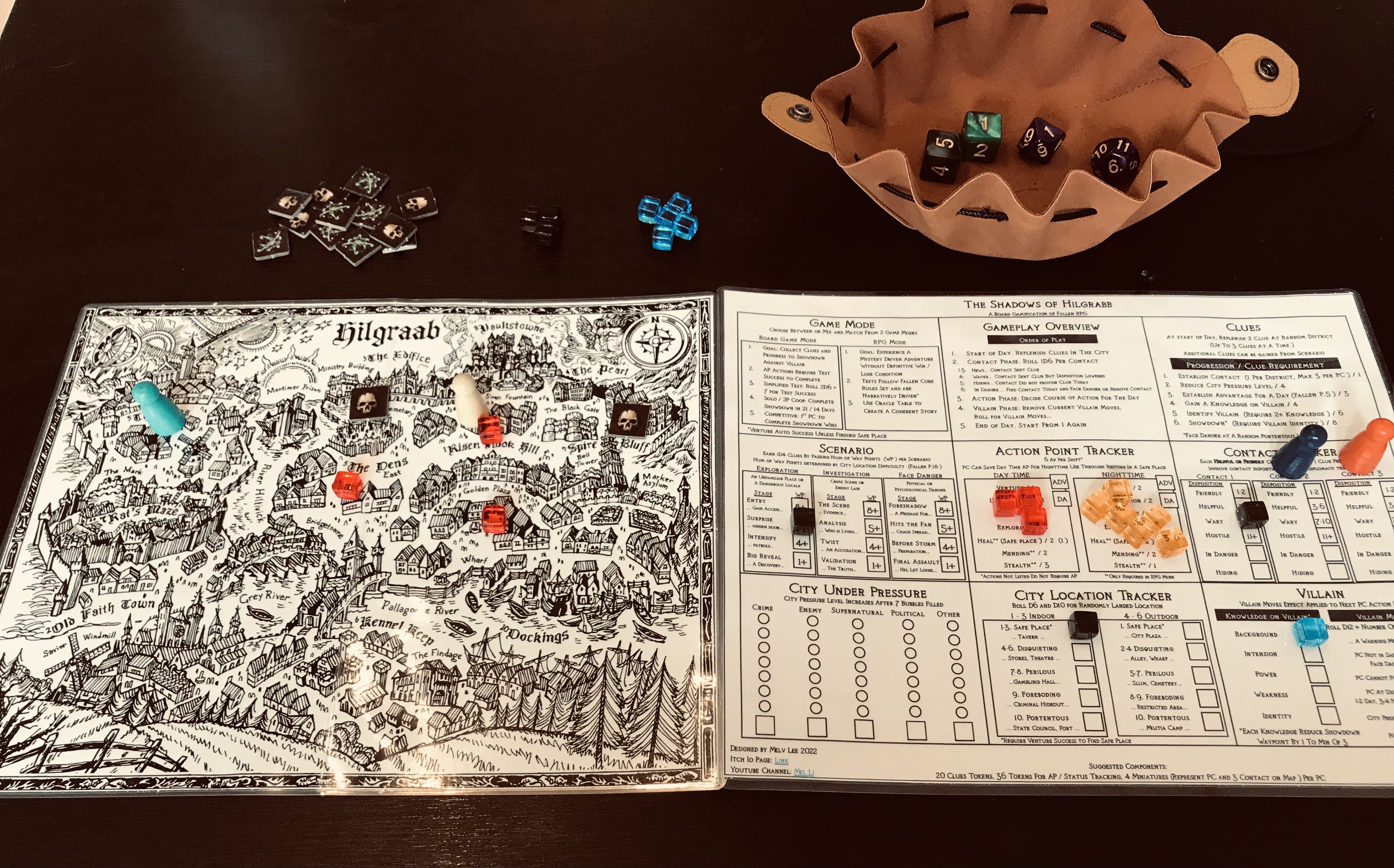 Content

The Shadows of Hilgrabb comes in 1 page that acts as both a player tracking board and quick play guide. The page can be laminated for longer durability or can be cut into 9 seperate poker sized cards for ease of carrying.
Key Components requirement from Fallen RPG

1. Hilgrabb Map (or use the Alternative Point Crawl Map provided!)
2. Fallen RPG and Hilgraab Rulebook for all the Generator tables!

3. Fallen RPG character sheet if playing RPG mode
Other Components
Players are recommended to prepare the below components in order to minimise writing / journalling and maximise the sense of playing a board game
1. 3 six sided dice and A set of polyhedral dice (D4, D6, D8, D10, D12, D20)
2. 20 Clue Tokens
3. 36 Tokens For Action Point / Status Tracking
4. 4 Miniatures / Standees or Chess Pieces to represent the Player Character and 3 potential Contacts
All the above can be substituted with coins or other avaliable materials.
To Do List
- Let's Play Done!
- Written Rulebook Done!
- Ongoing Support!
Optional To Do List
- Alternative Map with Route! Done!
- AI Controlled Rogue
This is an ongoing project and future planning include a mode for Wilderness or Village exploration.

Credits
The game mechanics used in The Shadow of Hilgraab are inspired by Wayward Board game, A Touch of Evil, Cluedo and many other Adventure Board Games
Font Used:
Playfair Display. Playfair Display is licensed under SIL Open Font License (OFL)
Knight Quest Font. Knights Quest is licensed under the 1001Fonts Free For Commercial Use License (FFC)
Image Used:

MidJourney Gallery
Published under Fallen 3rd Party License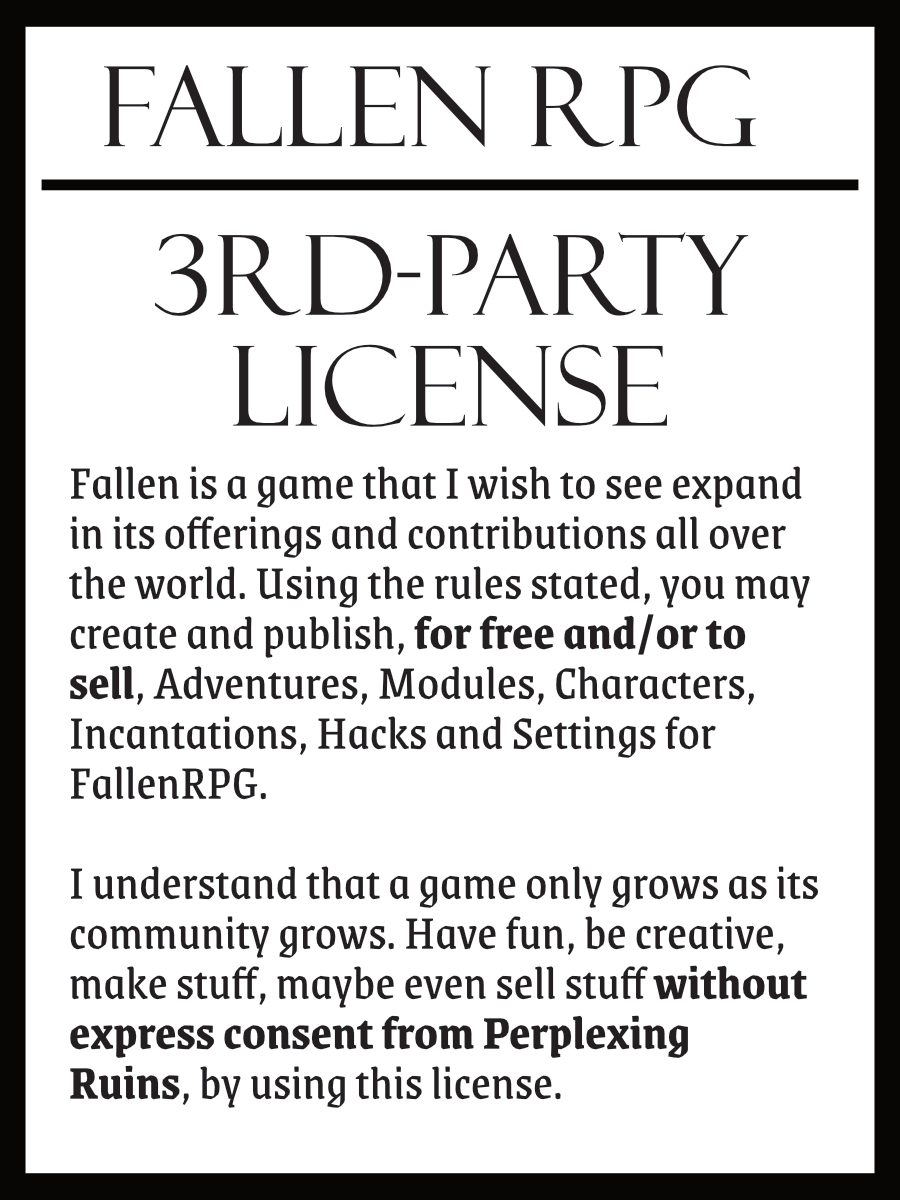 Download
Click download now to get access to the following files:
Fallen Map Black and White.pdf
2 MB
The Shadows of Hilgraab Rulebook Low Ink.pdf
223 kB
The Shadows of Hilgraab Rulebook.pdf
4 MB
The Shadows of Hilgraab Player Board Low Ink.pdf
99 kB
The Shadows of Hilgraab Player Board.pdf
1 MB